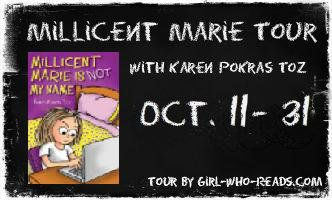 Welcome To The Blog Tour!!
I'm so glad you stopped by. We've got so much going on,
so don't miss any of it!
Today, Millicent has stopped by for a character post she's absolutely positive you will enjoy. So without further adieu, I introduce Millicent Marie, well she says that it's not her name but for now I have no idea what else to call her.
I'm twelve years old, and I'm in sixth grade. It's kind of a big year for me because we get to do all kinds of cool stuff like go on fun trips, do sports, join the Drama Club, and even have a sixth-grade dance.
I was going to join the soccer club, but there is this girl Haylee, who keeps saying mean things about me. She decided to join the team this year, which meant, I decided not to join the team this year.
None of the things Haylee says about me are true. I don't know why she has to make stuff up. She has to know it hurts my feelings. Whenever she says something about me, the other kids laugh, and then I feel even worse. I would never do anything like that. Okay, well maybe I have said some things about people, but they've all been true. That's different right? I'm just reporting back facts; I'm not telling lies just to be mean. Besides, if I didn't say it, someone else would. I don't see what the big deal is. It's not like I'm hurting anyone's feelings, I'm just . . . Oh no . . . I'm doing exactly the same thing that Haylee is doing! Is that possible?
I never thought of it like that before, but it's true! Gossip doesn't have to be something that is made up. Gossip is just talking about someone else, and at times it can be hurtful! I know, I've been on the receiving end, and sadly, it looks like I've been on the other end a well. But now that I know, it's time to stop. There is nothing good that can come out of gossiping. Now I just need to figure out how to spread the message (in a non-gossiping way, of course), so other people can stop as well.
Can you help me? Have a discussion with a friend or child, and let them know how gossiping can hurt others. Together we can make a difference.
I totally agree, Millicent and I'm definitely going to do my part. Thanks, so much for stopping by! Now, I'd like to tell you what I thought about the book.
ORDER HERE!
About The Book:
Twelve-year-old
Millicent Marie does not like her name. After all, she was named for a woman who died more than fifty years ago and was not the most lovable member of the Harris family. Her friends call her Millie, but when she
writes in her diary she refers to herself as Amanda ñ the name she
always wished she had.
When Millie ís younger brother finds her
diary on her computer, he decides to publish it as a blog for the entire world to see, including the boy Millie has a crush on. In the midst of all the mayhem, Millie/Amanda discovers she is suddenly Springside Elementary ís most sought after sixth-grade mystery gossip and advice
columnist.
But not all is fun and games, as Millie quickly
learns, once she realizes feelings are at stake. Nobody, least of all
Millie, expects things to turn out as they do in this tale of friendship
and respect.
First Line:

September 9-Sometimes our parents have a momentary lapse of judgment when it comes to their children.
What I Thought:

Karen Toz has really hit the mark with this middle grade novel about what it's like to be in middle grade. When Millie's talking to her brother, her voice is genuine and angst drips from the words. "Go ahead and tell who ever you want. Just be prepared to have to explain to Mom and Dad why it was you were in my room, looking at my personal diary, and then setting up a blog to send it off over the Internet – cause in my book, that's way worse than anything I've done. Now beat it!" The plot is great and everything keeps moving quickly. I love all the blog posts, too.
AND NOW....(drum roll please) THE GOODIES!
Comment on this blog for a chance to win your very own Millicent Swag Bag!
Karen Pokras Toz is also having a huge giveaway as part of this awesome blog tour. You won't believe the prizes, they are incredible!
Karen will be on
tour for the entire month of October. Check out the full schedule
here
.
The Grand prize is a swag pack plus tote bage, mug, and Amazon Gift Card. You can enter that below!
As usual, don't forget to visit the other incredible middle grade book reviewers for some other great books to add to your TBR.
I know I am!